Air Conditioner Maintenance, A/C Tune-Up & AC Service

Homer Glen, IL, Alsip, IL, Orland Park, IL, Tinley Park, IL, Lemont, IL & Palos Park, IL

To ensure safe, reliable and cost-effective cooling in your home and commercial facility, professionally inspection and tuning is critical. The NATE-certified specialists from Amber Heating & Air Conditioning will protect your comfort and investment, keep your air conditioning unit in good working order, and help your conserve energy and help you to save money.  With comprehensive cleaning and maintenance, we can prevent the majority of problems that result in costly repairs, wasted time and energy, and even degraded air quality and property damage.  By tightening, lubricating, adjusting and troubleshooting, Amber Heating & Air Conditioning takes the proactive measures that ensure lasting comfort and enjoyment from your cooling system.
Annual A/C Service
Annual service offers an extensive list of benefits that result in the savings of a great deal of time and money. Even if your air conditioner is continuing to function without regular service, its efficiency will gradually decrease, leading to rising energy bills.  As dust and debris accumulate within the inner workings, components are forced to work harder to deliver the same amount of cooling comfort, consuming greater amounts of energy and wearing out faster because of longer run times.  There's also the potential of unseen contaminants polluting the air you breathe.

AC Maintenance in Lemont, IL | A/C Tune-Up Oak Lawn, IL | Air Conditioner Maintenance Palos Park, IL
The seasonal change from moderate temperatures to summer heat, and intense use of your cooling equipment, can pose serious health concerns.  Colonies of insects, decomposing vermin and plant matter are a few of the nasty things that can be concealed within the workings of a split system.  As a result, microorganisms, dust and other allergens can be introduced into the air your breathe, and directly lead to coughing, congestion, respiratory tract infections, fatigue, and even asthma attacks.
Even during the heat of summer, while your air conditioner is working hard, there is the risk of contaminants.  Condensation, forming in the coils and ducts, provides the perfect habitat for mold and mildew.  When air blows through the ducts, microscopic mold spores become airborne and are sprayed into your home and inhaled, triggering severe respiratory symptoms.  Comprehensive cleaning is necessary to prevent and remove mold from the cooling unit and ductwork.  Amber Heating & Air Conditioning has the necessary equipment to complete the job properly and efficiently.
A/C Service: Saving You Money
A neglected cooling system will fail prematurely.  Equipment simply cannot withstand the heavy workload of Chicagoland area summers without the benefit of cleaning, tuning, and replacement of worn or broken parts.  By scheduling maintenance in the spring,  Amber Heating & Air Conditioning will make sure you enjoy uninterrupted, efficient and satisfying cooling all season long.  The many benefits completely offset the minimal cost and time involved, and when call the factory trained specialists from Amber Heating & Air Conditioning, we accommodate your schedule, keep a neat work area, and complete all work quickly.  We are a Carrier Factory Authorized Dealer and proud recipient of the Carrier President's Award, for exceeding expectations in customer service, technical expertise, business practices, and industry leadership.  We've delivered the same, exceptional and personalized service to home and business owners in Alsip and throughout Orland Park, Palos Park, Palos Heights, Homer Glen, Lemont, Naperville, New Lenox, Frankfort, Burr Ridge, Oak Lawn, Mokena, New Lenox, IL. for over 55 years.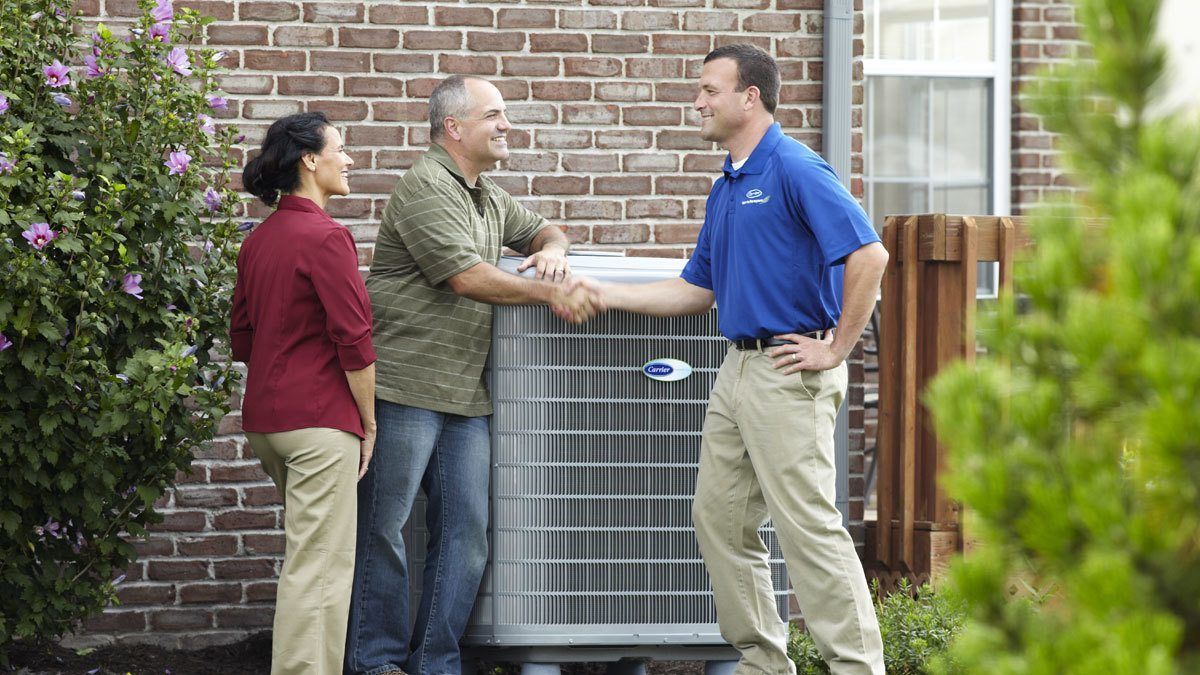 Air Conditioning Service

∴

Air Conditioner Maintenance

∴

AC Service

∴

A/C Tune-Up

∴

AC Maintenance ∴ Alsip, IL ∴ Burr Ridge, IL ∴ Oak Lawn, IL