HVAC Maintenance Agreements & HVAC Maintenance Plans

Homer Glen, IL, Burr Ridge, IL, Palos Heights, IL, Tinley Park, IL, Alsip, IL & Palos Park, IL

HVAC equipment manufacturers build products that will operate dependably through many winter and summer seasons. However, heating and cooling units incorporate a wide array of moving parts and high-tech components that are repeatedly subjected to excessive stress and wear, especially in areas with severe seasonal weather. Regardless of how old your air conditioning and furnace system may be, routine HVAC maintenance will help improve performance and reduce the chance of an unanticipated breakdown.
Seasonal and Annual Maintenance Plans
At Amber Heating & Air Conditioning, we have developed a full complement of seasonal maintenance plans that will save you money and extend the life of your equipment.
Complete Maintenance Services – Benefits of Planned Maintenance
Entering into a planned maintenance agreement with Amber Heating and Air Conditioning has many important benefits:
Problems can be identified BEFORE they become major repairs
Regular maintenance can increase the life of your equipment
Equipment will operate at peak efficiency, providing cost-effective operations
Equipment that is properly maintained can help reduce failures and unexpected bills
Peace-of-mind knowing that properly servicing your heating and air conditioning system with a qualified, highly-skilled technician can help minimize emergence situations
In addition, a planned maintenance agreement will ensure your system remains in compliance with the manufacturer's warranty provisions. On a semiannual basis, we send our service technicians to your home or office to complete a variety of tests, calibrations, inspections and other important services.
Service Customized to Your Home's Needs
At Amber we know comfort, reliability and saving are your top priorities, and we have two plans that are customizable to fit your need and budget.
Heating Units
Inspect and test the heat exchanger
Calibrate and adjust the blower assembly
Test the blower wheel balance
Adjust the gas burners for better combustion efficiency
Adjust and calibrate the ignition system
Test and regulate furnace gas pressure
Clean permanent filters and replace disposable models
Inspect and test the vent pipe assembly
Air Conditioning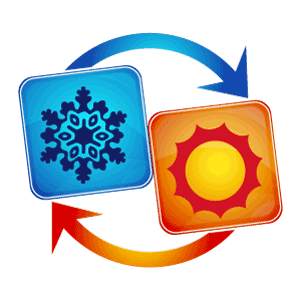 Clean condensing coils
Inspect evaporator coil
Test electrical components
Examine disconnect wire connections
Test the refrigerant charge and add if needed
Clean the cabinets and remove obstructions from grill assembly
Clean the drain pan and inspect the condensate lines
Examine the thermostat and reprogram if necessary
Lubricate motors and moving parts
Test continuity across all motors
Inspect the compressor
Test the contractors, defrost controls and blower motor
Air balance the registers
Record the temperature at the supply registers
Tighten loose connections
Maintenance customers also enjoy additional exclusive plan benefits including:
24-hour emergency service
10% discount on replacement parts & labor
Priority service
Wide selection of parts and equipment
There are many benefits associated with routine maintenance services when performed by a qualified HVAC professional contractor.
Lower Repair Costs: A preseason clean and check will uncover concealed problems before they can affect the performance of your system.
Superior Comfort: Undiagnosed performance problems can reduce the level of comfort in your home or office. NATE certified technicians have experience repairing every major brand of equipment, and they will optimize your system so that the temperature in each room remains even and comfortable.

Longer Equipment Life: Properly maintained heating and air conditioning systems provide the same level of comfort while accumulating fewer run-time hours. Neglected HVAC equipment must produce longer cycles in order to generate the same capacity as an optimized unit. Planned maintenance reduces unnecessary wear on moving parts, which can substantially improve the service life of your system.
Reduced Utility Costs: During each preseason clean and check, your furnace and air conditioner are restored to the original manufacturer's specifications. Better performance will maximize efficiency, which can save on monthly utility costs. Our technicians will also document other energy efficiency deficits.

HVAC Maintenance Agreements Lemont, IL & HVAC Maintenance Plans Tinley Park, IL
For customers in Chicago and Northwest Indiana, Amber Heating & Air Conditioning is your best choice for complete HVAC maintenance, installation and repair services.
HVAC Maintenance Plans

∴

HVAC Maintenance Agreements ∴ Palos Park, IL ∴ Alsip, IL ∴ Burr Ridge, IL