Infinity System Control
The Infinity thermostat is your key to unlocking your comfort potential. It features 7-day programming with up to 8 zones. It offers remote access through a smartphone and tablet devices for optimal energy control.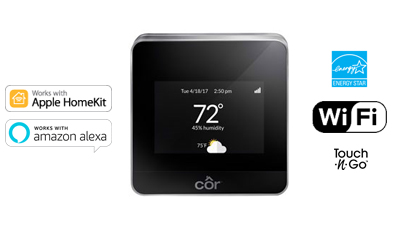 Performance Cor Thermostat
The Côr thermostat is the heart of a smarter home by combining home comfort with energy savings. It features 7-day programming, local weather 4-day forecast, and detailed energy reports and customized energy saving tips.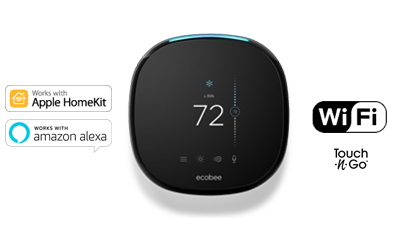 Ecobee5 Pro Thermostat
Ecobee5 provides all-around comfort. With a room sensor and built-in Amazon Alexa Voice Service, it's your answer to a smarter home. ENERGY STAR® certified.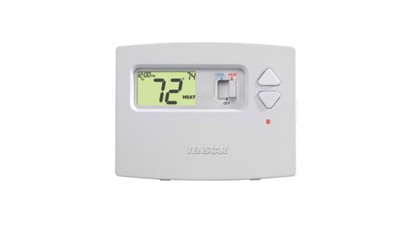 Venstar Programmable T1035
Extremely simple to operate and features a large, easy to read digital display. 5+2 day programmable
---
Whole Home Air Cleaner
Air Purification removes containments from the air in a home. These devices are commonly marketed as being beneficial to allergy sufferers and asthmatics, and at reducing or eliminating second-hand tobacco smoke.
Secureaire Whole-Home Air Purification System with ACTIVE Particle ControlTM
Purifies the air in every room of your home. Patented technology transports and inactivates particulates, harmful VOCs, and health-threatening pathogens, creating a safer, healthier, and cleaner home for you and your family
---
Air Purification
Air Purification removes containments from the air in a home. These devices are commonly marketed as being beneficial to allergy sufferers and asthmatics, and at reducing or eliminating second-hand tobacco smoke.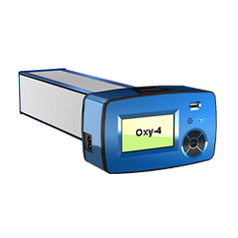 Respicaire OXY4
An Advanced Active Ionic Oxidation Air Purifier. Airborne microbial including unwanted odors and chemical gases are unable to escape the oxidative cleansing action of the OXY 4®
---
Humidifiers
Humidifiers help make dry air more comfortable by boosting your indoor humidity level. Typically, your humidity level or the amount of water vapor in the air drops during the colder months because cold air cannot hold as much moisture as warm air.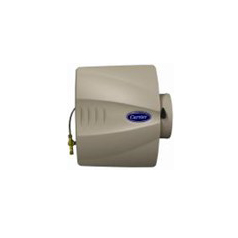 Carrier Bypass Humidifier
Maintain healthy humidity levels in your home through a built-in bypass damper. Evaporation capacity of 0.5 gallons per hour.
Carrier Fan Powered Humidifier
Features built-in fan to assist the humidification process. Has an evaporation capacity of 0.7 gallons per hour.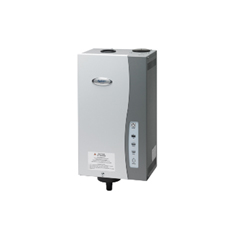 AprilAire Steam Humidifier Must purchase maintenance agreement
Provides humidity to the largest of homes (up to 6200 square feet). Delivers optimum levels of humidity control.
---
Filtration Systems
Filtration Systems work with your HVAC system to make the air you breathe healthier. The Infinity line products capture and then kill micro-sized pathogens by using electrical charges.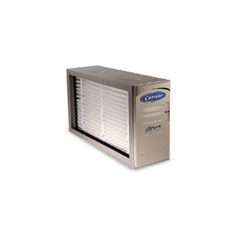 Carrier Comfort Air Media
The system provides whole home air filtration using a high efficiency filter The deep-pleated style of its MERV 10 filter keeps air flowing while removing up to 65% of airborne particles as small as 1.0 micron.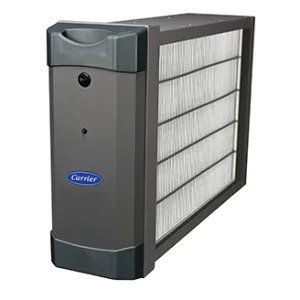 Carrier Infinity Air Purifier
The Infinity Air Purifier features patented Captures & Kills™ technology that kills or inactivates up to 99% of trapped viruses, germs, pollen, mold, and bacteria. It features a life-long Merv 13 Filter.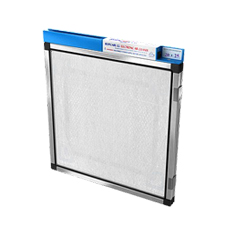 Respicaire MicroClean 95, 1" Hybrid Air Cleaner
New generation of Hybrid polarized Media Air Cleaner. Using electromagnetic attraction to remove harmful, airborne particulates from your indoor air. This includes particles as small as .001 microns (16x25x1 or 20x25x1 sizes)
---
Additional Products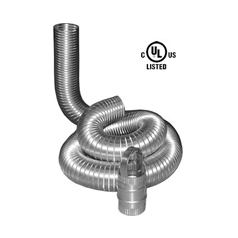 Chimney Liner
Protect the chimney walls from heat and acidic condensation.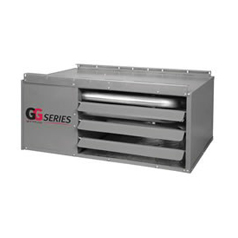 Garage Heater
Warm up your garage or workshop with a new heater.
---
Duct Sealing - Aeroseal - Learn More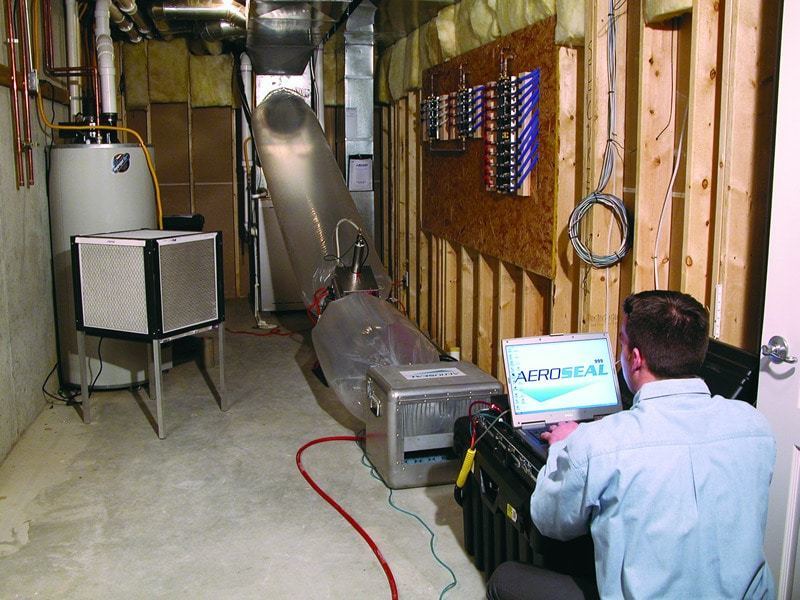 Features Cost effective solution to address duct system concerns. Sealant finds holes, breeches and gaps and continues to build up layers over the damaged portion of the duct material until the hole is completely sealed. The Aeroseal system can fill cracks, holes and punctures up to five-eighths of an inch in sheet metal, fiberglass and flexible duct systems.
Benefits Enhanced Comfort: A complete seal of the ductwork will help solve problems associated with uneven temperatures in different rooms. Better Efficiency: may lower monthly power and fuel costs by sealing small holes and cracks in ductwork. Improved Indoor Air Quality: improves IAQ by eliminating the source of the contaminants that circulate throughout your home.
---
Duct Cleaning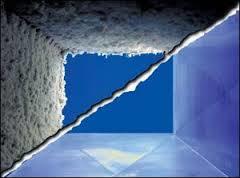 Features Removes built up dust and dirt from existing whole home duct work system.
Benefits Peace of mind know your duct work clean and the air in your home is not bypassing the build up in your ductwork.
---