Commercial Planned Maintenance Plans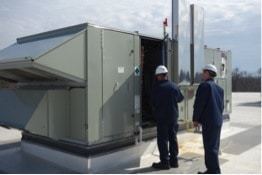 Amber Mechanical offers planned maintenance programs that range from Inspection Only Clean & Checks, to Full Service Coverage. By listening to your needs and assessing your facility, we will be able to put together a program that will best serve your comfort service needs.
Equipment Serviced
Packaged Rooftop Units
Air Handlers
Reciprocating Chillers
Screw Chillers
Pumps
Condensing Units
Computer Room Units
Make-up Air Units
Boilers
Furnaces
Variable Air Volume Systems
Zoning
VAV Boxes
Exhaust Fans
Unit Heaters
Duct Heaters
Exhaust
Building Automation
Surveillance
Card Access
Avoid Failures and Unexpected Bills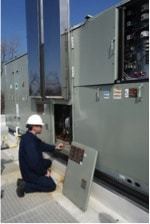 Planned maintenance is your key to identifying problems before they become major repairs costing you time, money and down-time. We can provide you peace of mind in knowing your system is properly serviced by a highly skilled technician to help minimize emergency situations.
Amber's technicians are factory trained and certified. Ongoing training and education equips our team with the experience and knowledge to face your problem head on. Put a highly skilled professional from Amber to work for you.
Customized Service Plans
At Amber we know reliability, comfort and savings are crucial for the operation of your facilities' HVAC system . The Service team at Amber Mechanical works side by side with you to develop a customized service plan tailored to your facilities' HVAC needs.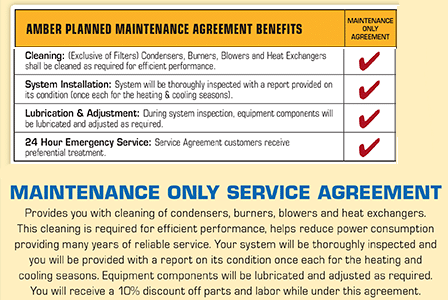 A Long Tradition of Quality Service
Amber Mechanical Contractors, Inc. services all brands of commercial and residential heating, air conditioning and ventilating equipment in the Chicagoland area. To cover such a large area, we have a strong organization and a professional team with the ability to quickly respond to your needs. One call to Amber Mechanical Contractors puts a proven team of highly skilled craftsman to work for you. When you hire us to take care of your service needs, you're hiring a company with over 50 years of experience committed to quality work. We can design, install, and maintain a variety of systems.
Why not let Amber Mechanical Contractors, Inc. build excellence into your next project. For a free consultation call 1-800-592-6237.