Piping Solutions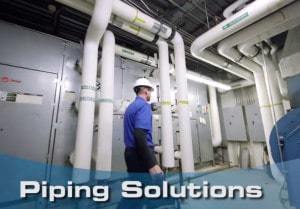 Amber Mechanical offers diverse experience in providing complete turnkey piping solutions for our customers. Our company is proficient in all phases of design, coordination, fabrication, installation and commissioning of piping systems.
Our professional and experienced staff utilizes their vast mechanical and contracting knowledge to complete project tasks including:
Design/Build
System Cost analysis
Mechanical Design
BIM Coordination
System Integrity & Piping Survey
Piping Prefabrication
Radiant Floor & Snowmelt Heating Systems
Geothermal Piping Systems
Humidification
Variable Flow Refrigeration System Design & Installation
HVAC – Hydronic & Steam Piping
Refrigeration Piping
Industrial & Process Piping
Medical Gas & Laboratory Piping
Underground Piping
Central Heating & Cooling plants
As a family owned business we take pride in our customer service. We take an innovative approach to all projects to provide efficient system design and installation, while maintaining all the customer's needs.
Since our inception, we have successfully completed commercial, institutional, K-12 and higher education, healthcare, industrial, single and multifamily residential and industrial projects.